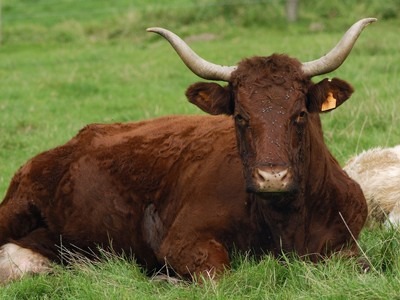 The Salers Evolution Group (formerly UPRA Salers) was created in June 1992 in Aurillac and modified by the Agricultural Livestock Orientation Law (LOA) number 2006-11 of the 5th of January 2006 and the decree of the 28th of December 2006. It is recognised by the Ministry of Agriculture as the Body Responsible for Selection. The Salers Evolution Group is a non-profit making body which brings together all the partners in breeding/selection and promotion for the Salers breed.
The federal role…
The Salers Evolution Group has the role of co-ordinating and animating the genetic improvement programme. It defines the objectives and the qualification norms of males and females It also has the role of promoting the breed and its products.
The definition of the genetic improvement programme and of promotion
The Salers Evolution Group :

defines the characteristics of the breed (ie certification or not whether or not an animal is of the Salers breed) and puts in place qualification criteria. This interpretes the direction of selection given to the breed and allows a genetic value to be estimated.
takes responsibility for the running of the breed data-bank and the production of official documentation from the Salers Herd Book.
Works out the objectives of selection and defines the genetic improvement programmes

Provides technical support to breeders by means of the Herd Book and other bodies involved (EDE, Bovins croissance…)

Brings to fruition the policies of promotion and communication of the selection programme and the products arising from it to professionals and the greater public. Collects, analyses and diffuses all the data necessary for promotion and progress of the breed.