Publication date:
13/02/2017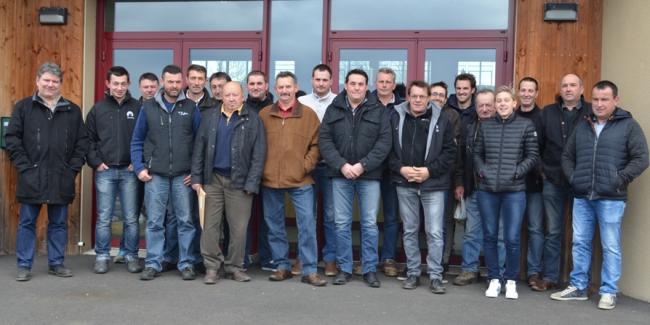 18 animals will represent the Salers race at the "Salon International de l'Agriculture" from 25 February to 5 March 2017.
They will start for capital Thursday, February 23.
On the site of the exhibition center animals salers will be located in Hall 1, near the stand of GSE
Stand n° 1 F 031
The salers show will take place on Wednesday 1st March from 14.30 to 16.30 on the big cattle ring in hall 1. It will be possible to watch live on the internet.
LINK
Catherine BENEZIT, breeder salers in Cantal will be the judge of the contest.
The sections of the competition :
young bull :
JONAS - GAEC ELEVAGE CHASSANG (15)
JOYEUX - GAEC DOUHET - MAURET DAVID (15)
JANNU - GAEC FOURTET YVES ET CIE (19)
JOACHIM - GAEC LANGE (08) - GAEC DE CONCHES (15) - GAEC AC VANTAL (15)

old bull:
IMPECCABLE - GAEC LACOMBE DE CROS (15)
IDEAL - GAEC ANTIGNAC (15)
INSSOU - GAEC DE CONCHES (15)
IZOARD - VIGIER DANIEL - MEYNIEL EDMOND (15)
young cow :
JUSTINE - FRULLANI MICHEL (15)
JAVA - GAEC BEYLE (15)
JUVENILE - GENTY GERARD (15)
JICKY - TERRASSE FRANCK (43)
old cow :
ILENA - FRULLANI MICHEL (15)
IVRESSE - GAEC DAYRAL MICHEL ET HERVE (15)
FORTUNE - ANTIGNAC SOPHIE (15)
HARMONIE - CORMIER JEAN LUC (63)
GRACIEUSE - GAEC FOURTET DAVID (19)
GAUFRE - EARL LACOMBE DE CROS (15)
List of animals
JONAS

GAEC ELEVAGE CHASSANG (15)

JOYEUX

GAEC DOUHET (15)

MAURET DAVID (15)

JANNU

GAEC FOURTET YVES ET CIE (19)

JOACHIM

GAEC LANGE (08)

GAEC DE CONCHES (15)

GAEC AC VANTAL (15)

IMPECCABLE

GAEC LACOMBE DE CROS (15)

IDEAL

GAEC ANTIGNAC (15)

INSSOU

GAEC DE CONCHES (15)

IZOARD

VIGIER DANIEL

MEYNIEL EDMOND (15)

JUSTINE

FRULLANI MICHEL (15)

JAVA

GAEC BEYLE (15)

JUVENILE

GENTY GERARD (15)

JICKY

TERRASSE FRANCK (43)

ILENA

FRULLANI MICHEL (15)

IVRESSE

GAEC DAYRAL MICHEL ET HERVE (15)

FORTUNE

ANTIGNAC SOPHIE (15)

HARMONIE

CORMIER JEAN LUC (63)

GRACIEUSE

GAEC FOURTET DAVID (19)

GAUFRE

EARL LACOMBE DE CROS (15)